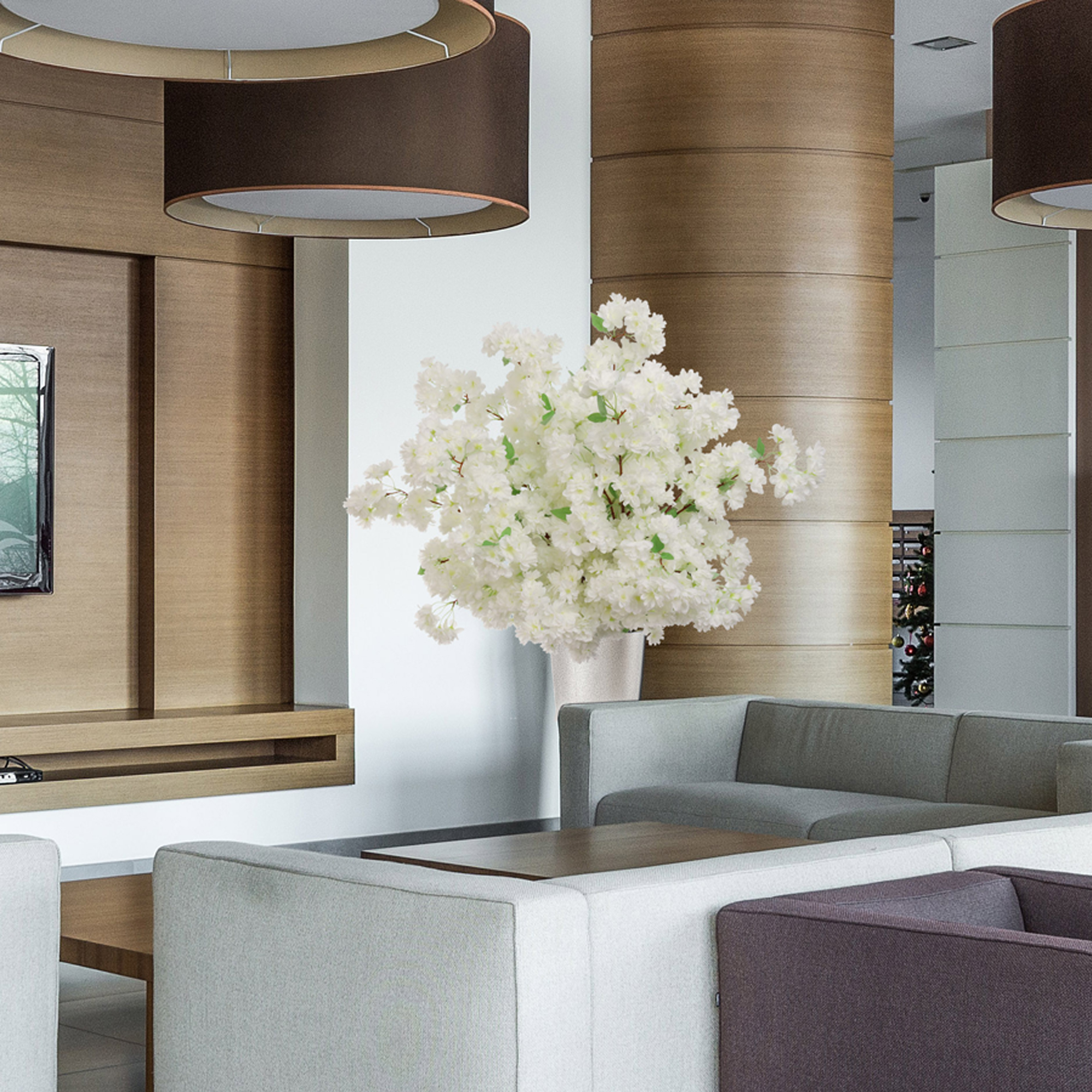 I've said it several times and I'll repeat it again: Home staging is an art. So, forget about buying expensive decorative stuff, we will show you how to use flowers to add style and statement to your home décor.
DIY Farmhouse Spring Mason Jar Planter
Instructions to make the DIY Farmhouse Spring Mason Jar Planter:
Step 1:
You should start by painting a huge mason jar – you are free to choose the type of painting you want or you can also choose Rust-Oleum Chalked Paint in Linen White (this is the color I usually use for any farmhouse or rustic project. I've been using the same quart for almost a year now, so a little goes a long way.)
Step 2:
Now, it's time to paint the mason jar with a foam brush since it produces a cleaner, less "streaky" effect. However, a normal old brush might work just fine.
Step 3:
After the paint has dried, take sandpaper and work on giving it a kind of distressed look. There are different kinds of sandpaper available, but if you have only one type, just make sure you use some extra coarse sandpaper.
Step 4:
If you want to utilize your mason jars to hold fresh-cut flowers, you can use a simple waterproofing procedure to paint your jars. To learn more, click here!
Step 5:
It was time to gather the flowers now that the mason jar had been painted and distressed! I am not a flower arrangement expert at all so I've relied completed on Pinterest to make beautiful floral arrangements. If you are like me, here's a link where you can find the best floral arrangements.
Step 6:
So, start by adding some flowers in the center. Then, proceed to trim off about 1/3 of each of your flowers from their respective bushes. Take your time and then place them around and in the previous flowers until you get a mixed look. The purpose of this kind of arrangement is for the floral décor to look as if you went into a field of wild and beautiful flowers and just grabbed a handful.
Reviews:
"I tried this at home with my daughter and she loved the experience, but I must say the result was not quite satisfying at the end. Maybe we tried it the wrong way…or I have really bad taste." – Simon. T
"I loved it…thanks." – From Dina. S
DIY Tulip Wreath
Materials you'll need for this floral craft:
Wire cutters
Faux tulip stems
14″ of straw wreath form
3″ of burlap ribbon
Instructions to make the DIY Tulip Wreath
Step 1:
The starting phase includes buying 12-14 bunches of beautiful and fresh tulips. Then, proceed to make the wreath form. To make the wreath, start by selecting the wrapped straw – that's the easiest material I know that you can work with.
Step 2:
The plan is to tie the ribbon around the wreath shape so you can attach the stems in the seams and have them remain in place. And, no, you don't need any glue for that –it would just work perfectly. So, after a series of trials and errors, you would learn that the ribbon needs to be wrapped on the loose side. Next, take the wire cutter and get rid of every stem from the main one. It's best if you can try to keep each stem pretty lengthy in the hopes that they would remain in place better.
Step 3:
When it comes to arranging the artificial flowers, you can try to go for any combinations you want.
Step 4:
Now, work your way around, pressing each stem into the ribbon's seams. It's better if some of the branches end up going through the wreath form's plastic covering, which will provide extra security.