When staging a home, many people prefer to use flowers instead of some high-end decoration. Indeed, according to home design experts, floral staging can help a home sale move quickly. So, here are some of the very best DIY floral arrangements for staging your home with!
DIY Wild Beauty Flower Arrangement
.
Materials you'll need for this craft:
Spray Roses
Some greenery
Instructions to make the DIY Wild Beauty Flower Arrangement:
Step 1:
Honestly, I prefer the Farmgirl-esque arrangement and if you agree with me on this, start by choosing one type of flower in either two complementary colors or a single hue, along with two types of greenery – one needs to be light and the other hard and less whimsical.
Step 2:
Make the foliage taller on one side and let it flow over on the other to create a small S-curve pattern that will make you appear like a pro!
Step 3:
First, arrange the foliage in the vase. Though it may appear paradoxical, this helps creating a wild, asymmetrical bouquet simpler.
Step 4:
Add a lot more foliage than you think you should. Instead of floral foam, tape, or a frog, it serves as the base to hold the flowers in place in this arrangement. Personally, I love greens so much that I frequently I'd make an arrangement with them without adding the flowers!)
Step 5:
As the flowers begin to wilt and turn brown, remove them from the arrangement to keep the other stems alive. Greenery usually lasts a couple of weeks longer than flowers, so swap the flowers out on your next shopping trip.
DIY Assorted Home Bouquet
Materials you'll need for this craft:
Earl grey roses
Purple dahlias
White button poms
Greenery (ruscus)
Instructions to make the DIY Assorted Home Bouquet:
Step 1:
Flowers should be free of thorns and leaves. This will keep hazardous germs out of the water and shorten their lives.
Note: As a rule of thumb, arrange your bouquet around 1.5 times the height of its container. You should also consider the breadth and height.
Step 2:
Blow into the middle of the blossom to help roses open faster. This helps the rose to breathe and broadens the bloom.
Step 3:
Flowers should be kept away from direct sunlight and heating vents.
Step 4:
Every day, recut the stems and add water.
Simple Homemade Flower Arrangement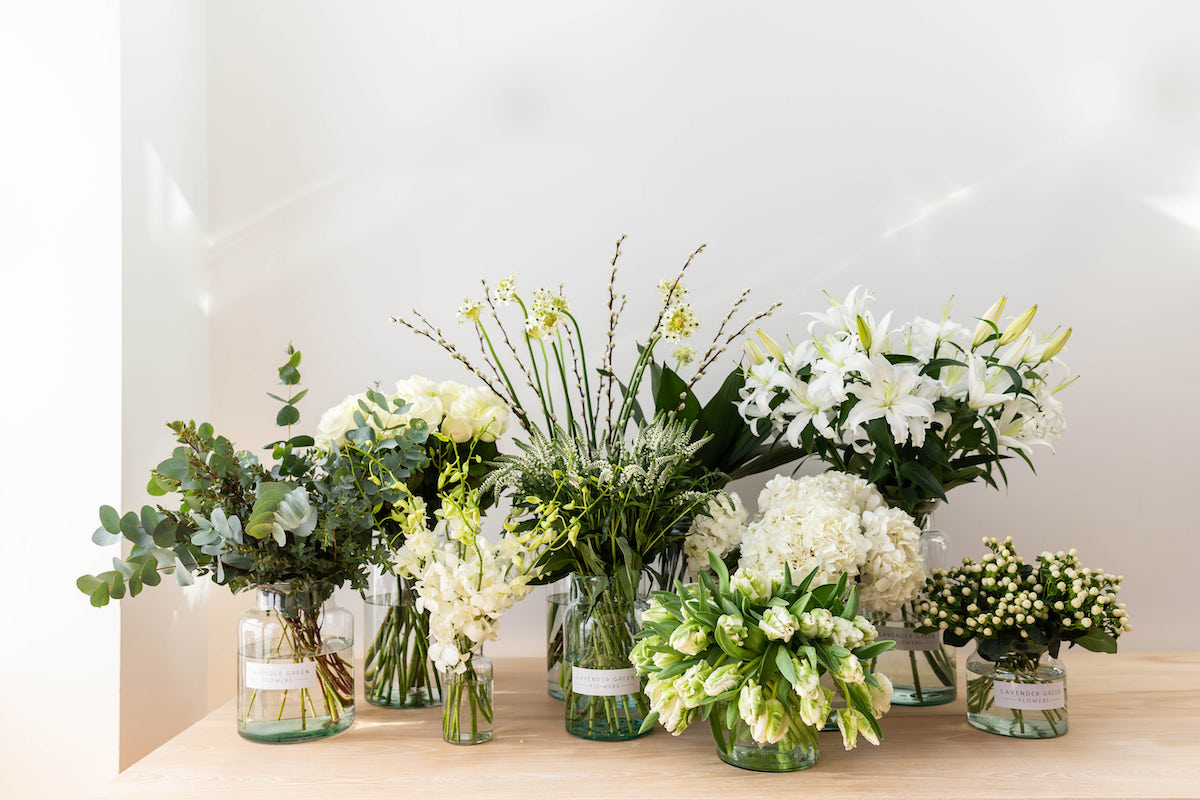 Materials you'll need for this craft:
A pair of scissors/clippers
Vases
Rose Strippers
Floral wire
Garden gloves
Floral frogs
Floral tapes
Chicken wire
Instructions to make the Simple Homemade Flower Arrangement:
Step 1:
This flower arrangement is quite simple to make. I promise you'll create something great with large, eye-catching blossoms. Alternatively, you can use a one-of-a-kind vase. Hydrangeas, peonies, tulips, roses, ranunculus, and dahlias are the flowers I recommend. You can normally keep the stems of flowers like tulips, ranunculus, and others longer to keep them high. However, you can choose to cut the hydrangeas and peonies a bit shorter so that the heads hit the lip of the vase and fill the vase to the brim with blossoms. Your flowers will, of course, vary depending on the season. Hydrangeas, tulips in the spring, peonies in the early summer, and dahlias in the fall are all excellent choices all year.
Note: With a bigger vase, and tools such as floral frogs/chicken wire/tape, you can prepare and make different types of flower arrangements. They can also be hand-arranged or organic. However, these will need a more creative eye. You want to include the textures of various flowers and plants. I prefer to include elements that offer dimension, such as longer stemmed veronicas or greens that stand out. Or anything that clings to the ceiling like seeded eucalyptus. Snapdragons, sweet peas, and baby's breath are other excellent choices. You want different textures in the petals and leaves. Flowers contains some of my favorite floral arrangement DIYs. If you enjoy DIY projects, this may be the project for you.