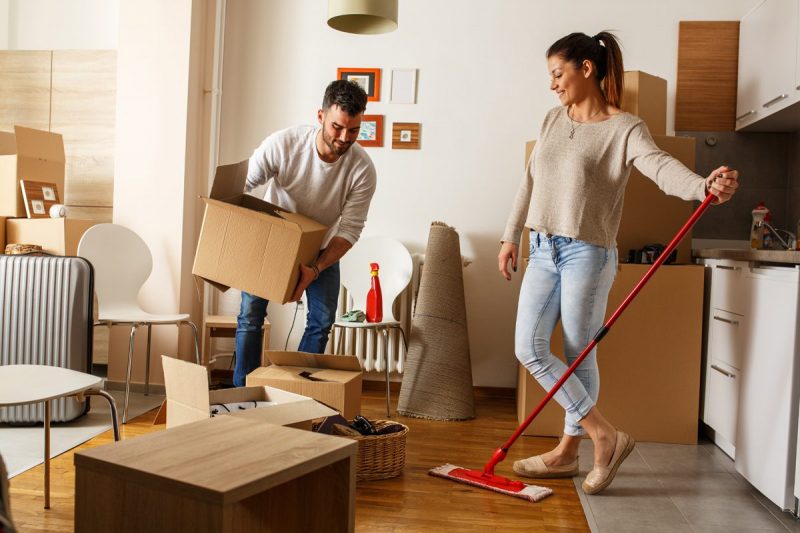 The time has come… It's time to start making your move, and you think you have everything under control, but then a question arises in your home when to do the move-in and move-out cleaning? Don't worry; you're not alone when it comes to this! Whether it's for their home or office, thousands of other people who are moving in or out feel the same way. That's why we bring you everything you need to know to decide when to clean your house before hiring the movie service!
What Elements Require Cleaning in a Move?
Are you really clear about everything that needs to be cleaned in the process of a move? Many people are not aware of the number of objects accumulated in a house until it is time to move them. If you are one of those people, below you can find a list of your house elements that will require cleaning in a move. Take out paper and pen so that, when the time comes, you don't miss anything.
Rooms, Kitchen and Bathroom
Before starting to fill your new home, you must clean the different rooms of the house, taking advantage of the fact that they are empty. And you may be wondering why do I have to clean the house when it is empty? The answer is simple; once you fill the house with furniture, it will be more complicated. You probably also have no idea what exactly you have to clean from these empty rooms. Read on if you want to know.
Floors: floors are accumulators of dust; whether the house is new or occupied will be full of dust. How about a round vacuum cleaner and mop?
Walls: if the new house is freshly painted, you won't need to do anything. If, on the contrary, it is not likely, it is also collecting dust. Try wiping them with a damp cloth to make them shine.
Ceiling: in the same way as the walls, if it is not freshly painted, it may accumulate dust or other dirt types. Get on a ladder and give it a good refresher.
Doors, Latches and Switches
Surely this you had not considered, but they are also elements that you have to clean before entering to live in a house. The doors, in the same way, that the walls can accumulate dust or marks from use that they may receive in their day to day life. As you can see, it is an essential element to take into account when cleaning a move. On the other hand, we have the doorknobs and switches; if your new house has been previously inhabited, its tenants will have been manipulating these elements. Considering that more bacteria accumulate on the hands, you will understand why these elements need a good cleaning.
Furniture and Appliances
You should clean your furniture before moving when you are sure that it will be stored indoors, away from any dirt. You should also make sure to keep your appliances as clean as you left them on the move. If it turns out that your furniture is going to be stored somewhere that is not very hygienic, there is no doubt; you should clean them after the move. Checking the cleanliness while moving is conditioned by various factors. Remember that there is always the option of hiring a home cleaning service to help you with this task.
Decorative Objects
This may be the most challenging part of your move. In all the houses, there are lots of objects that fulfill some function or not. Here is one of the most important moving tips: take the opportunity to throw things away. All these objects that can be kept in boxes can be cleaned whenever you want. You have the option to pack them clean or wash them when you are unpacking them, what you prefer. As you can see, there are many elements to take into account when cleaning a move. You probably wouldn't have considered cleaning many of them.
At this time, you may be considering more seriously about asking for help from one of the house cleaning companies. Don't worry; a little professional help never hurts. The cleaning experts at Jani Queen are equipped with all the necessary cleaning skills and offer a wide range of tailor-made services for residential, industrial and commercial applications in Ottawa, Kanata, Orleans and its surrounding area.