Have you ever had to welcome last-minute guests at your place? Perhaps you've experienced the stress of trying to find a suitable place for them to crash. Often, many homeowners don't have extra space in their house to use exclusively as a guest room, especially if it would only be used once or twice a year. When you're short on space, a Murphy bed may be just what you need. Whether you're a professional living in a small condo in a big city or an empty nester rearranging a room in your suburban home, wall beds offer numerous noteworthy benefits. Check out some of the top reasons why you should consider owning one (or more)!
#1. Sleep Like A Baby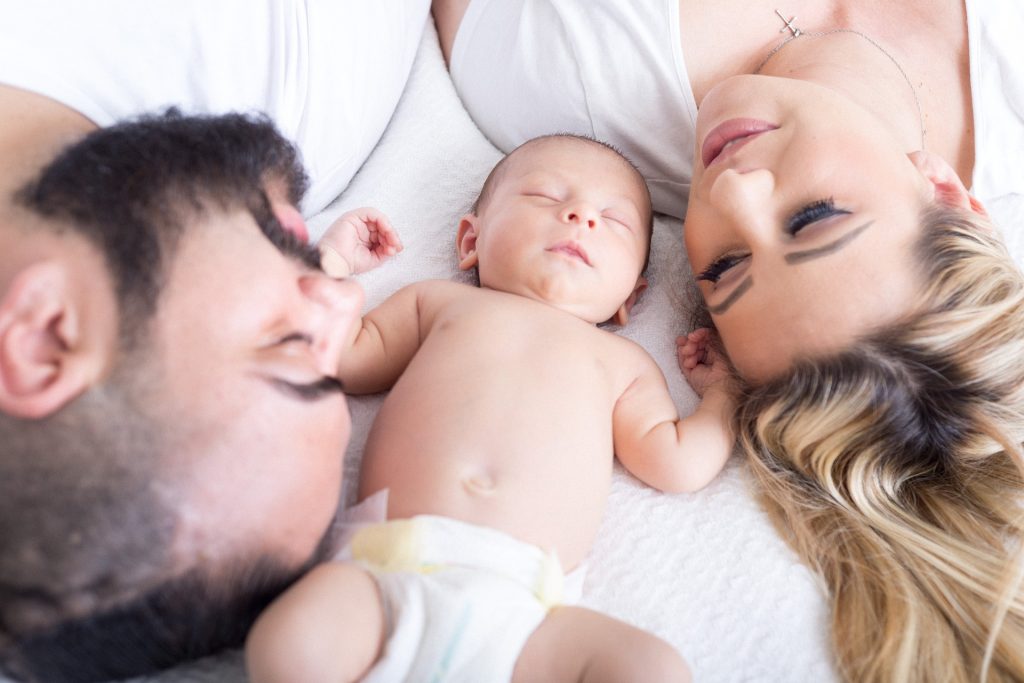 When you have guests staying overnight, you certainly don't want them to sleep on a pull-out couch or, even worse, an air mattress. Instead, you can give them a night's rest by upgrading your home with a space-saving wall bed!
Many folks think that just because it's a bed that folds up against a wall, it's not built for comfort, well that's not true! Murphy beds are designed with comfortable mattresses that allow you to enjoy a sound sleep both during the day and at night. The fact that it is a wall bed doesn't make it any less comfy than other types of mattresses.
#2. Great Space Savers
Being able to offer an extra bed to your guests is all very nice, but you don't always want your space to be taken up by a bulky piece of furniture. What's great about a Murphy bed is that you can lower it down and use it whenever you need it, and keep it out of sight when not in use. All you need to do is pull it off the wall when you or your guests are ready to get some shut-eye. And when you're done, the bed folds down easily to free up significant floor space (pretty cool, right?).
Finding some extra space when living in an urban area is like looking for a needle in a haystack!. There may not be much room in your apartment, and the situation only gets worse as you acquire more furniture and other belongings. The perfect option, in this case, is wall beds! They are foldable, allowing you to use your room thoroughly during the day and still have a good night's sleep in the very same place!
#4. Give Your Kids More Room to Play 
Your spare room doesn't necessarily have to be for guests! You can actually save some space for other activities. By creating a dressing room, you'll have plenty of room to stash all your clothes, shoes, and jewelry. Murphy beds are also ideal for children's rooms, where they can use the free floor space. Simply tidy the bed in the morning and keep the room as open as their imagination! It's also an excellent way to encourage tidying up at the end of each day, as the bed cannot rest on a dusty floor.
#5. Easy-Breezy Installations & Dismantling 
Are you worried about folding a bed against the wall? Do you think you need Arnold Schwarzenegger's strength to do it? If so, then you should just chill out. Murphy beds have a counterweight design that allows you to operate them with a single hand, whether you're a stay-at-home mom or a college student.
Unlike futons or pull-out sofas, Murphy beds fold up smoothly and safely. You can also leave sheets and other bedding in place when you store the bed. That way, the mattress is ready to use again whenever you need it!
#6. Achieve A Multipurpose Space
The most obvious reason for using a wall bed is the ability to transform your space into a multipurpose room. Are you short on space for the home office you need, that guest room you" ve always dreamed of having, or a playroom for your little ones? Then you should totally go for a Murphy bed! Personalize your room with a spacious desk, reading area, or shelves for toys, all with a cozy, tidy bed.
#7. Oh-So Chic and Trendy
Wall beds are making a huge comeback recently, and the design features are better than before. They come in a wide variety of finishes and styles and can seamlessly integrate with coastal, country, traditional, modern, or any other décor. Adding shelves to the sides of your bed can create a mini library, or hold fancy belongings. Options are also available to decorate the cabinet door (hiding the bed) with different finishes and hardware.
#8. Add Some Life to Your Room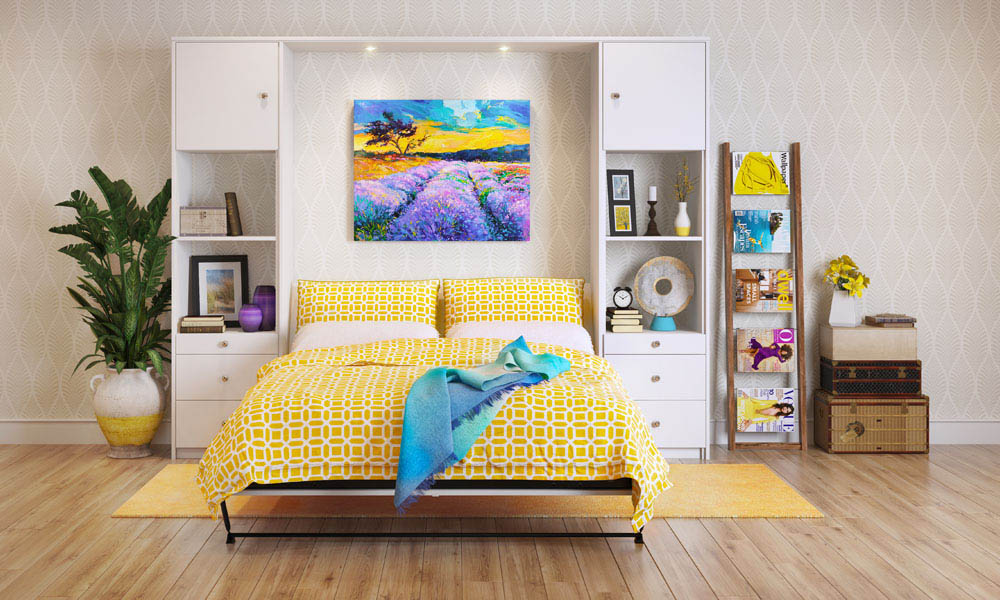 The Murphy bed cabinet style you choose can definitely upgrade your room's aesthetics. If you feel like your space currently looks bland, transform it with a simple purchase.
For instance, if you're going for an industrial look, a sagebrush Murphy bed cabinet would work. Or if you're going for a beachy look instead, then considered the brushed driftwood style. What's great about these cabinets is they'll always be on display, no matter if your bed's out or not. They serve as beautiful day furniture when your bed's stored away, and when you have your mattress out, the cabinets serve as a decorative headboard.
#9. Fantastic for Those Working from Home
Talk about a transitional space! Wall beds do much to satisfy the growing number of people who work remotely, using that spare bedroom as an office.
#10. Add Value To Your House
You might be happy to find out that a Murphy bed adds value to your home and protects your initial investment. If you decide to move, you can take the Murphy bed with you wherever you go and have it installed at your new place. If you choose to leave it behind, you can factor the bed's cost in the total resale price of your house. In any case, you don't lose money in the long run by going with Murphy bunk beds.
Customize Your Wall Bed Today!
Murphy Beds and Storage Solutions offers high-quality custom or pre-built Murphy beds to small apartments, offices, and guest rooms to homeowners in Saint Augustine, Florida. Whether you're looking for a sophisticated custom bookcase bed or a small desk bed for your child's room, they'll help you customize your selection to meet your needs. If you're looking to convert your existing home office into a multi-use office/guest room, they also offer built-in desks, cabinets, file systems, computer areas, and more to help complete the transformation.