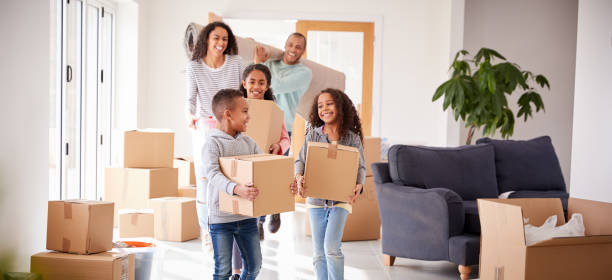 Moving day is approaching, and you're worried about how you'll pack, load the van, and unpack your belongings again? This is understandable, but there is no need to worry. There are many tricks to make the whole process smarter. We've gathered some tips to make packing for a move easier.
1) Put Your Clothes in Trash Bags
Why take clothes out of the wardrobe one at a time when you can do it the easier way? Just tie your clothes with a garbage bag. This way, they can be loaded into the removal truck straight from the wardrobe, still on hangers. In your new home, you can hang them in the closet in the same way. We recommend that you purchase large, sturdy trash bags for this.
2) Put Socks on Glasses
The same principle can be used to protect glasses and vases with socks. Since you are taking the socks with you anyway, why not use them as packing material? We recommend placing newspaper, towels, or plastic wrap between the glasses for additional protection.
3) Organize Your Jewelry Smartly
If you have a lot of earrings, bracelets, or necklaces, this tip is for you. You can pack your jewelry in various ways to prevent tangles during transport. Have you already thought of the following tricks?
Use Ziploc bags for necklaces, earrings, and bracelets
Place small earrings in pillboxes.
Thread chains through straws or toilet paper to prevent tangling.
Keep earrings together by putting them through the buttons of a buttonhole (and sticking them with tape)
Pierce earings in a cardboard
4) Wrap Cabinets In Foil
It is possible to wrap cabinets in foil. This has two advantages: the doors and drawers will not open when lifted. It is also convenient to keep lightweight items such as underwear and cutlery in the drawers. This saves a lot of packing and unpacking!
5) Take Pictures of Cables
Where did those red cables go? And why is there a plug? To avoid such questions, it is best to photograph the back of the device. You will know exactly how to connect your TV, modem, and DVD player in your new home.
6) Pack Dishes and Towels Together
Please pack your tableware securely. Also, bring towels; one plus one is two, so why not combine them? Towels are the perfect material for wrapping dishes. For extra strength, make packages of 2 or 3 plates in a towel and seal them with packing tape. This saves wrapping paper, bubble wrap, and space in the moving boxes! By the way, did you know that dishes should be placed vertically in the boxes? This reduces the risk of breakage.
7) Close Bottles With Foil
Of course, you don't want to find everything covered in body lotion or shampoo when you unpack your move. Foil will allows you to pack the bottles more securely. Take the cling film and place it over the bottle opening. Then attach the normal cap.
8) Place Books in Rolling Cases
Books are usually the heaviest items to carry in a move. If you want to save your back, you can put the books in a suitcase. This way, you can simply roll them to the moving van and save a lot of energy consumption. Don't have a rolling suitcase? Then use a special book box. Small, sturdy moving boxes are ideal for transporting books.
9) Storing Screws
When disassembling furniture, screws are best stored in small bags. Write on the bag which piece of furniture it belongs to and tape the bag to one of the corresponding furniture pieces. This way, you will have them all on hand when you reassemble the furniture.
Let us know if these few tips have helped you in the comments below!