Moving to a new city or state can be overwhelming for everyone, especially for any child who isn't used to shifting. Kids have to bid adieu to teachers, friends, and the comfort of being surrounded by people they know. If the move is going to be hectic for you, imagine what the kids have to go through, from familiarizing themselves with the new environment to adjusting in a class where everyone is friends except you. To help you out, here are a few tips that will help you in your move with your kids, especially if you're a single parent.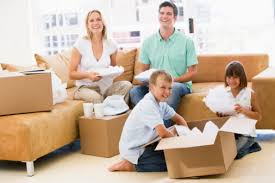 Have a family meeting – Call for a family meeting and order some pizza! Gather around the dining table for THE conversation. If you are moving because of your job or because of a promotion, tell them that you are excited and happy about it! Share your happiness with them. Encourage them to express their feelings and concerns. If it's their first move then be understanding that they will change the way they talk. It's better if you share your first time moving experience, they will be more comfortable. If they're used to it, then they will be sporty and actually suggest places you can look for to stay.
Get their views on the new home – If you have already visited the new place, show them the pictures or have them have a virtual tour online. If you have a few options set, then ask them what they find in the other places. Ask them to share what they prefer with each house. After you have picked the house, keep them posted throughout the process.
Finish your kid's project before you move – If your kids have been given home-works or have been working on crafts or puzzles for a while, be sure to have them finished and pack them up before you move. Don't let anything pending as it will increase your workload.
De-clutter their rooms – Moving out is a great time to let the kids know to cut through the clutter. Sure, there's going to be a plethora of things to take, you don't want additional clutter to gather up in the new home. Get the kids to help you go through the house, room by room if possible. Let them accompany you in the journey down the memory lane while de-cluttering the house.
Organize a moving sale – Let the kids know if you are planning about a moving sales, they are a great source of advertisement. They can help you in increasing the sales by selling their old toys or clothes. Involve the kids as much as possible in order to know their real feelings!
Look out for this post, there's more!