As mentioned in the first part, we talked about moving with your pets and how it is important for you to consider remembering all the points. So here we go! In this one, we will discuss about all pets and how they have to moved.
Health
You may need to obtain a health certificate for your pet from a licensed veterinarian and this can be used in the event it is required for entry to your new home state. The Department of Agriculture may request to see the health cert at your destination airport or could even be patrolling the highways if you are driving. A health cert is generally valid for 10 days, so be sure to have the inspection scheduled just before you move. The veterinarian will conduct a complete physical examination of your pet and check that he is current with all inoculations.
Dogs
Whether traveling by air or by car, moving can be even more stressful for a dog than for a human, although some dogs adapt better than others. Hold off on packing your dog's bedding and toys until the last moment so that he can be comforted by the presence of familiar things. If you're traveling a long way, avoid feeding your dog for 12 hours before the journey in order to prevent travel sickness. If you know your dog suffers from travel sickness, ask your veterinary surgeon about medication.
If you plan on flying to your new home, do your best to book a direct flight. If your dog has to be transported by freight and the flight is not direct he may have to sit out in the hot or cold weather as the freight is boarded to the new flight. Check with the airlines for details. If your dog is small enough, he may be able to travel in the passenger cabin with you. He will need a special pet carrier, which you can purchase at your local pet store. Ask the airline what crate specifications they require.
If traveling by car, have your dog's nails cut to avoid damage to the upholstery. Carry an adequate supply of plastic bags and use these to clean up after your pet at any rest stops you use. Never let your dog hang his head out the window of a car when it' s moving. Even though most dogs love to do this, it can cause sore eyes, ears or throat.
Never leave your pet alone in a car, especially in hot weather. The temperature inside the car can quickly rise to an unbearable level, even on what feels like a pleasant afternoon.
Once you arrive at your destination, be sure to get your dog back in to his routine of eating and exercise. If you have moved to an apartment building and your pet dog was used to having a yard to play in, you'll need to be extra considerate. Walk your dog more frequently, at least until he gets used to his new living situation. Be patient and make allowances for indoor "accidents." Don't punish your pooch, as this may make the problem worse. Clean the mess to remove the soil and smell. Once your dog has settled in, the accidents should stop. Use positive reinforcement to teach him where he needs to go. Always praise him when he relieves himself in the correct place.
One way to help your dog settle in more quickly is to create a comfortable sleeping area for him. If your new home has a yard, check the fencing to make sure that it is secure, of sufficient height and 'hole-free' before letting your dog run loose. If your dog is able to escape, exercise him on a lead until you are able to make the necessary improvements.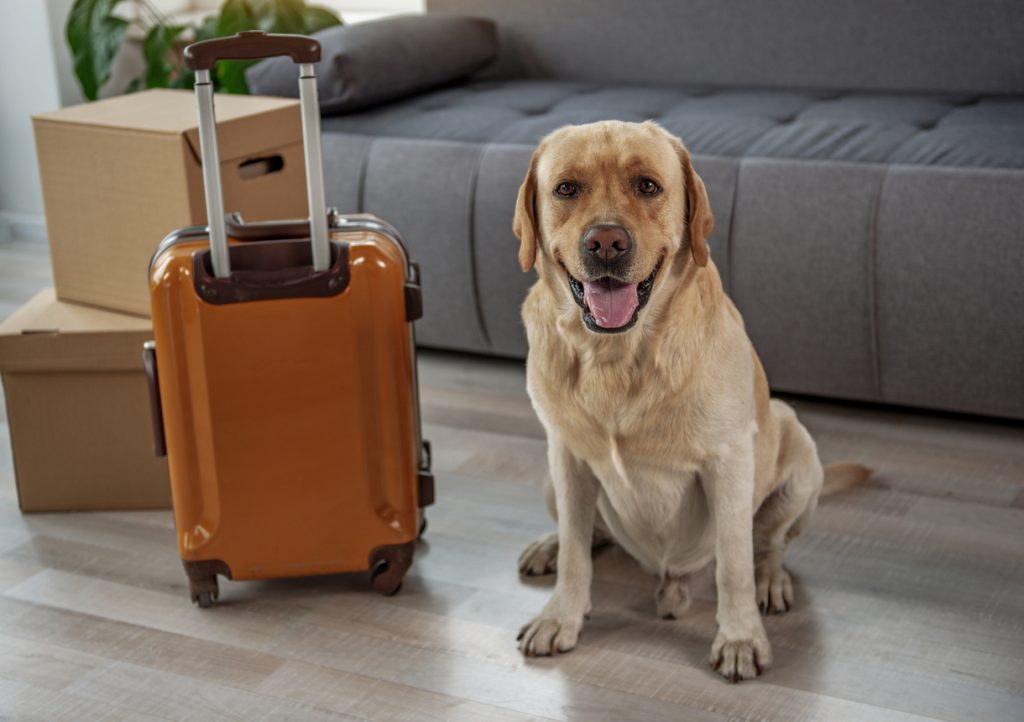 Cats
It's commonly accepted that cats get very attached to places and typically hate to move. Cats get particularly comfortable with routine, and don't like their environment to change. This can make moving especially difficult for humans and their cats.
In the days leading up to your move, try to keep your pet's routine as normal as possible. It is best to crate your cat during the moving process, and it may be helpful to ask a friend or family member to keep an eye him.
If you are traveling by air, you may need to purchase an airline-approved carrier for you cat. You airline should be able to provide you with all the details. If you are traveling by car you may also want to use a crate or carrier so your cat cannot roam about the car, or escape through an open window or door.
Once you are in your new location, be careful to keep your cat indoors until he becomes comfortable in his new surroundings. Do not allow your cat outdoors, because he may try to return to you old home … and that's obviously dangerous for him, especially if you've moved far away. Supervised outings are advised until your pet gets used to your new home. You can use a long leash on your cat and connect it to a stake in the ground, allowing your pet to wander the length of the leash for the first few days. Let your cat explore all the rooms of the house and be sure to check that outside doors and windows are closed before you begin.
Birds and Small Pets
Of all pets, birds are probably the most sensitive to changes in temperature and environment. Your pet bird can be moved in the cage in which it lives. When you are moving with your pet bird, be sure to use a cover for the cage. This can keep the bird calm and protect it from drafts. Place the cage in a shallow box to collect any gravel, feathers or droppings that may spill during transit. Remove any containers of food and water before moving the cage to avoid spills en route. Do feed and water your bird at its regular times, as birds, like all small animals, can become dehydrated very quickly in warm weather.
Some states require a health cert for birds entering the state. The USDA may inspect this cert either at the airport or during routine roadway inspections. Have your pet bird inspected by your veterinarian prior to traveling. Some health certificates are valid for a brief period of time. Ten 10 days is a common window for a health certificate.
Horses
There are several ways to transport horses. Your horse can be transported by air freight, by towing a trailer or by hiring a specialized horse transporting company. The horse transport company can use either air or road to transport horses.
By Air
Many airlines accept horses as air freight. In general, they will only transport horses on direct flights. You will be required to have a stall constructed to the airline's specifications, and you will need to ensure your horse has the necessary health checks completed prior to moving to your new home state. Remember that requirements vary by state, and airlines will request a health certificate. The USDA may also be at the destination airport conducting inspections and may request to see the health certificate.
By Road
Depending on the distance you need to travel, towing your horse in a trailer behind your car or truck may be an option. If you do not own a trailer, you may consider renting one, but you'll want to be sure you're experienced enough to safely load and trailer your horse. You can also pack tack and feed in the trailer.
If your trip requires overnight stays you will need to book stables en route for your horse. These stables will require a health certificates appropriate to horses only, and if they do not you probably don't want to board your horse there. Your veterinarian should be aware of the applicable laws of the different states and will be able to provide you with the necessary health certificates. (Contact information regarding states entry requirements is at the end of this guide.)
If you are unable to find a stable or lodgings for your horse in close proximity to your hotel, inquire whether the hotel will allow you to keep the trailer in the parking lot overnight. In inclement weather this is not advisable. Feed and water your horse per the normal routine and clean out the stall when you have an overnight stop.
In the third part of this blog, we will continue with reptiles and aquatic animals, and what regulations you have to abide to.