As mentioned earlier in the second part of this blog, we will discuss about moving with reptiles and aquatic animals in this blog. It is important to understand that not all states and countries have the same rules and regulations, so remember that you need to check out all those documents before going further on your moving decision.
Reptiles
Most states have strict government regulations regarding the entry of reptiles. See the states regulatory contact list at the end of this guide to find out what you need to do before moving your reptile from state to state.
As a general rule, the carrier that a reptile is transported in needs to be kept moist. Place the reptile in a cloth bag and fasten the top of the bag, making sure to leave the reptile enough room to move about, then place the bag in the shipping container. Use foam peanuts for cushioning and place damp paper or cloth in the shipper to keep the environment moist. Make sure there are air holes in the shipper for ventilation. If you are traveling overnight with your reptile you may need to place him in the tub of your hotel room at night for a nice long soak. Check if the hotel allows pets first.
Do not ship reptiles in excessively hot or cold weather, as their shipping container may be left outside for periods of time, leading to stress and possibly death.
Snakes must be handled with extra care, especially if they are venomous. Most airlines require double crating for snakes, which means putting the snake in one crate and then placing this crate in another, larger crate. Adequate ventilation is a must. The airline may provide you with stickers to put on all sides of the crate and you will need to write the type of snake on this label. You should also write on the sticker whether the snake is venomous or not.
**Warning
Remember to keep the surroundings of all reptiles moist, but not wet. Placing a damp cloth inside the container is one of the best ways to keep your reptile's environment appropriately moist during transit.
Fish
Fish are notoriously difficult to move safely from one location to another, but it can be done effectively and efficiently with some planning. It is advisable to sell or give away as many fish as you can before you move to help ease the burden. However if this is not an option, this guide will help you understand what you need to do.
Depending on the size of your aquarium, and the number and type of fish you have, it may be easier to separate them into a several smaller tanks. If the aquarium is 5 gallons or less it may be just as easy to move the entire aquarium. Place some cellophane over the top of the aquarium and remove all heaters and aerators. Place the container in a cooler box or Styrofoam container to regulate the temperature and keep it constant for up to 48 hours. Be sure to open the cellophane every four to five hours to change and refresh the air. This option may be the best for tropical fish, which don't do well in smaller containers with overcrowding or sudden changes in water and temperature.
Never leave the container in the car overnight, as the temperature changes may be too drastic for the fish. If you plan to be traveling to your destination for a couple of days with your fish it is advisable to purchase a portable aerator to keep the water well oxygenated. Always pack your aquarium last in the moving truck so that you can unload it quickly at your destination.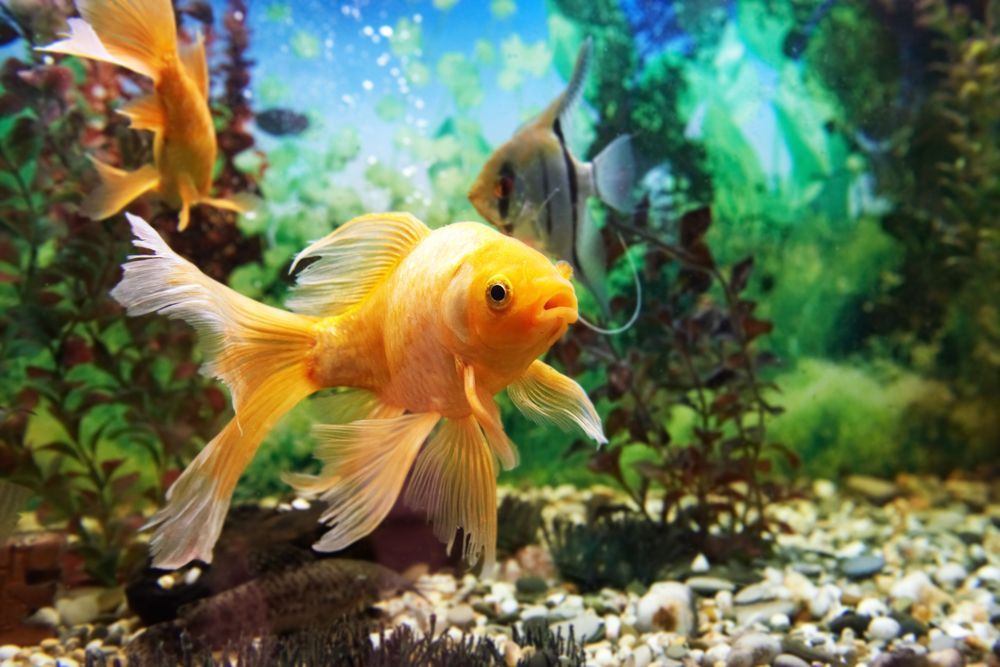 If you separate your fish into smaller containers or fish bags, you should try to use the aquarium water in order to keep the environment as constant as possible. In the event you do not have enough water for all the smaller containers, add fresh or saltwater appropriate to the type of fish. It is advisable to allow each container of water to settle for a few hours after filling. If you have only a small number of fish and are moving a short driving distance, you can move the fish to their new location by using plastic bags half-filled with water and half-filled with air. As a general guideline, each fish should have at least 1-2 gallons of water. To maintain the temperature, place the bags in an insulated container or Styrofoam container.
Most fish can go without food for a couple of days without any problems, but it is important to add healing agents to the water, as the fish may become bruised en route. This is not uncommon and you can purchase healing agents at your local pet supply store.
When you arrive at your destination set up the aquarium as quickly as possible. You may need to treat the water to neutralize any chemicals; your local pet store can advise you of any treatments the local water may need.
Turn the aerator on for a while, and then add slowly and gently add the fish to the tank one at a time. Wait until the water settles, and feed them as usual.
New Community
Some of the most common reasons that people leave their pets with shelters are "we are moving "and "my landlord doesn't allow pets." Remember, pets do not know why their owners are leaving them behind, so do your homework beforehand to save all that heartbreak. Consider your options carefully, as pets should be considered a lifetime commitment. If you are absolutely unable to take your pet with you, you owe it to this creature to find him a good home.
You need to make sure that your pet has some sort of easily read ID attached to its body. For dogs and cats this can be a collar, while a tag around the leg is appropriate for birds. The ID tag should have your pet's name, destination address, your name and telephone number. It is also a good idea to have an alternate's name and number on the tags in the event that somebody finds your lost pet and is unable to get in touch with you. You should also have rabies tags for your pet; depending on the state where you live this will most likely be a requirement. For air travel, your pet may be required to wear special travel tags, which the airline will provide.
We wish you a happy moving and hope that your pets will love the new as much as you do!