Moving is always stressing as much it is fun, when moving we tend to think of the clothes, books, plants, but never of the furniture. Of all the things that there is to take care when planning to move, furniture is sometimes forgotten in the amidst.
Well, no worries, a moving company like Thunder Move can take care of moving your furniture in the best way possible. It is important that you discuss your move with the moving company and how you are going to manage everything once moved. Moving big items of furniture can be tricky unless you have a van that is why you need some extra help from a professional delivery company. A delivery company can also give any advice or answer questions that you might have. Delivery firms have experience in collecting most types of items and will know the rough cost of the journey.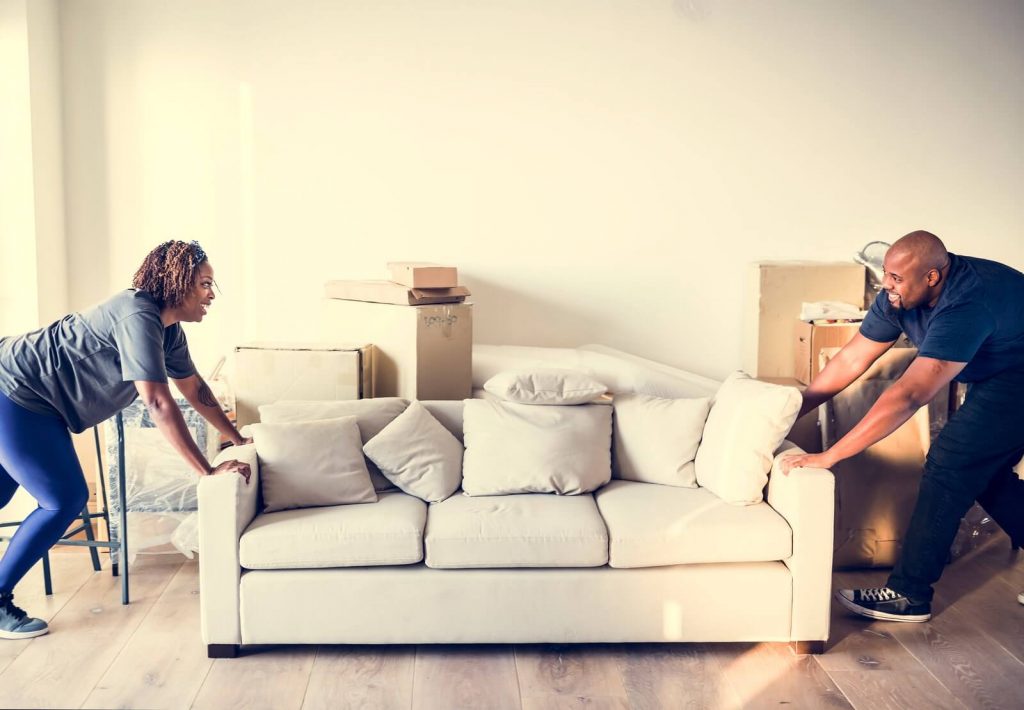 No matter what size of the item or type of item needed for delivery a courier company will be able to help move items. Courier companies and other collection firms are specially insured to carry valuable items and other heavy items. Sometimes it can be difficult to know who to trust when it comes to precious items. Moving home is stressful enough as it is and not knowing which courier company to choose can be tricky. Most companies have different packages on offer depending on the customer's needs.
Remember, you don't need to take up space-taking furniture when moving. Making a layout of each room on grid paper is an excellent method of attack. If that's too much trouble, then take measurements for each piece. Be sure to also measure each hallway and doorway the piece must pass through. Also, measure the place where the piece will go.
Make lists
If you're a fan of lists, then they will save you during the moving process. Make an inventory list of items you're moving and where they are going to make the transition smoother. Make a budget and stick to it. Factor in the costs of materials, DIY moving or using a moving company, and factor in any unseen expenses that may pop up. If you plan and plan well, you'll probably end up with more in your pocket than you expected, which will come as a welcome surprise after the move.
Book or plan your removal date ahead of time too, so you know exactly when things need doing and how much time you have.
Get rid of what you can
The less you must take with you, the easier it is to move. That goes for DIY moving and when you use professional movers. In the case of the former, that means fewer trips for you to make to and from your new residence. For the latter, it means that you are likely to be charged less. Some movers charge according to the volume of items, so the less you have, the less you'll spend to transport it. Plus, moving gives you the perfect opportunity to get rid of unwanted or less necessary items and give you a fresh start in a new location. You can even make a tidy profit in the process and sell furniture before you move.
Protect your things
If you're putting delicate things in boxes, mark them as fragile so that everyone else knows they're fragile too. If someone other than you are handling those boxes and they don't have a label on them, they aren't going to be handled as carefully. That goes for heavy items too. Give people fair warning about a box's contents and label as many as possible.
Wrap bigger individual items too. If you're concerned about how particular items are going to be transported, wrap them up in plastic or protective sheeting. Some fragile items may need excess wrapping such as bubble wrap or Styrofoam casing. If in doubt, leave it to the professionals.
It is important that you treat your furniture with care. Have all the larger pieces moved first, so that you get the most stressful parts out the way, and so you can fill up the truck accordingly and gauge your space options. Be patient in the moving process, if a piece of furniture is particularly frustrating, take a step back and have a breather and reconsider the way it is being moved. Do not bang the furniture against walls and doors on its way out, as it will damage the furniture and the home. Another very important thing to remember is to not slide the furniture if you are moving a very heavy piece. This will undoubtedly damage the carpeting or flooring of your property or the property you are moving into. It is best to rather slip something such as foam padding or a piece of thick plastic underneath the furniture before sliding it along.
If possible, try and cover all furniture pieces going in the truck with blankets so that they do not get damaged in transit. Fridges must always be kept upright, and should never, under any circumstances, be tipped sideways for easier moving, as this will damage the functionality of the fridge! There are nice trolleys available that are perfect for transporting the fridge. This trolley can also be used for the washing machine and any other large items of similar shape that need to be transported.
Move with care
Whenever you're moving furniture, always lift from the knees and avoid straining your back. Get as many people to help where heavier items are concerned and don't take on more than you can handle. Move slowly and carefully; ensure there is always a clear path before you start moving a piece of furniture and that children and pets are out of the way. Distribute weight evenly and communicate with others who are helping you move.
Recruit a trusted furniture removalist when you want to ensure the moving process goes as smoothly as possible. It will make the process run a lot faster and save you both hassle and money in the long run. Thunder Move specialises in fast, stress-free furniture removals at the lowest prices. If you're unsure about your next move or need any advice about moving.