I'm currently in the middle of moving. Next week, I will be settled in Coral Springs, ready to start a new chapter of my life.
As a result, in about 15 days, I managed to find an apartment, find movers, start packing while working the blog, freelance missions, and all the ups and downs of life.
And like every time something happens to me, I try to learn from it. As a result, this move happened faster than expected and taught me several things that I wanted to talk about today.
A MOVE IS A BIG GIANT TETRIS
The first step of the Tetris is to quantify the ton of boxes & furniture that we will have to move to ask for quotes from the movers.
For my part, the deadline of moving being super short; I called the movers even before having signed the lease of my apartment and started the boxes. So I had to list the furniture I would take with me and estimate the number of boxes my stuff would represent. To do this, I roughly cut the list in two by assessing my move from Pembroke Pines to Coral Springs.
Then, I had to start packing and storing them in a room while living there before the movers came. For me, this is very stressful. And yet I am neither maniac nor orderly, but to have all these boxes in front of me, that anguishes me terribly. As a result, we started to put everything away in the corners of some rooms, piling up the boxes and making sure that the apartment remains liveable while everything is cleared.
WE ACCUMULATE A LOT WITHOUT REALIZING IT.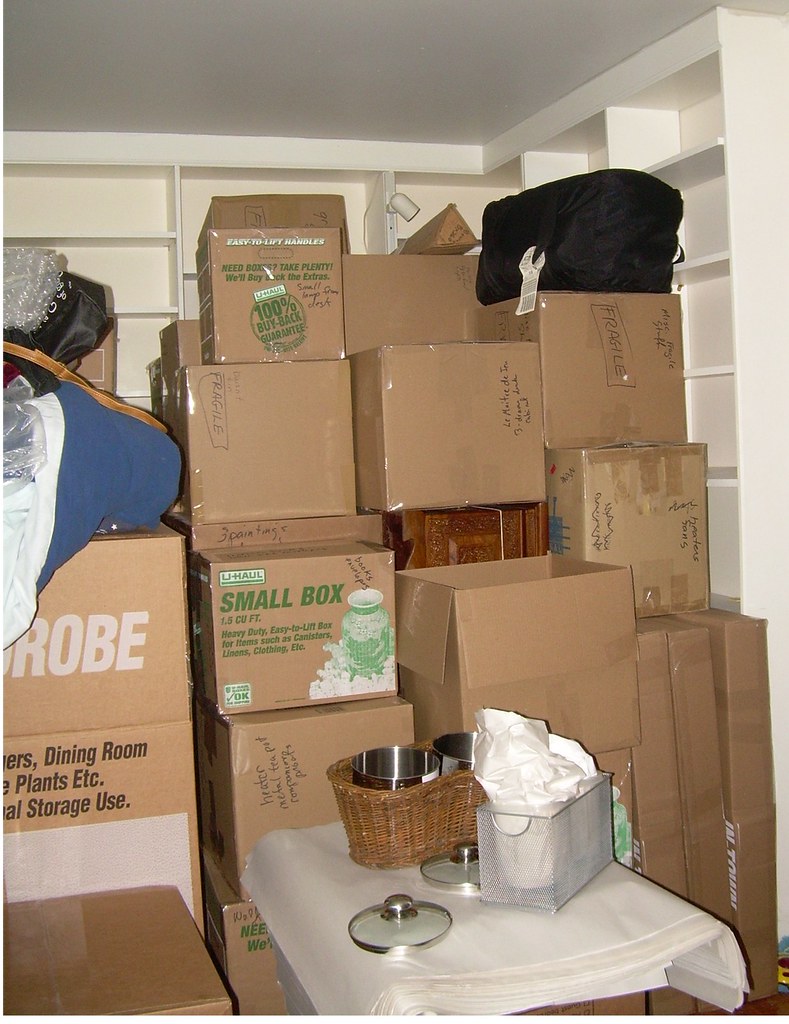 And the worst thing is that my previous move was a year ago, and I had already done a considerable sorting.
But in one year, I still accumulated many products and other objects. Because of being in Pembroke Pines, brands always offer you more products. Even if I'm far from accepting everything, it represents 5 to 6 packages per week on average (without counting what we receive during the blog evenings).
As a result, since I don't have time to sort before I move, I've made boxes with products I plan to give to charities and some I plan to sell when I arrive in Coral Springs. I will also provide some stuff to friends and family.
The thing that also shocked me was the large amount of paperwork that I accumulate over the years. Payslips, bank papers, insurances, Internet, taxes, various contracts… I have tons of them, and the worst is that they are many papers that we can't throw away.
There is a small memo that allows you to know after how long you can get rid of the paper version of these documents that I invite you to put in your favorites 😉 I'm thinking of scanning a good part of them so that I can easily keep them on a hard drive or a cloud.
DON'T HESITATE TO PUT ON PAPER EVERYTHING YOU NEED TO DO FOR THE MOVE
To make sure I don't forget anything during the move, I create to-do lists. Because generally, when you prepare for a move, you always have 50 things to think about at the same time…
As a result, I wrote down all the essential things I had to do, especially concerning the administrative stuff and the various steps related to the move: mail transfer, Internet, etc…
The slight feeling of relief that we feel when we note that a task is finished is a so good feeling that it motivates for the continuation ^^
As for me, I only have a few days left before the move is made, next Thursday & Friday. I can't wait for all this to be over, even if it's going to be weird to live alone again and to have to take new habits… But of course, we'll talk about all this very soon on the blog 😉