It is true that if you are moving your belongings yourself, you may save some money, but you have to stop and ask yourself: is it really worth all that effort? Pack, take apart, load, find the proper means of transport and friends to help you, drive, unload, assemble, unpack. Sound like a lot of work? That's because it is, and moving professionals like ThunderMove know how to do it right. Packing may seem like the easiest task of all when it comes to moving house or office, but once you actually do it, you realise that packing is not that easy, and most of the time, it takes a long time.
That's why many people opt for combo movers and packers. Packing takes about 25% of the entire moving process, and you will probably end up paying more if you decide to do this job yourself. Just think about it! You will probably spend a significant amount of money on mobile accessories, such as boxes, containers, portable blankets, etc. It could damage fragile items because you don't have enough experience to pack accordingly. Professional movers know how to pack everything fast and easy. Let's check out all the perks of hiring specialists for your moving projects!
But, What's A Moving Service?
The moving service is provided by specialised moving companies and many people who work informally, popularly known as hauling. Many people look for this informal service to move their new home because it is a little cheaper. However, cheap can sometimes be expensive; and this is very common for removals.
Disadvantages of Hiring the Informal Hauling Service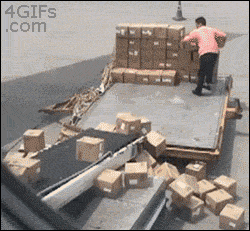 People don't have any training.
They only take care of raising and lowering things.
Trucks or vans are not suitable for moving things safely.
Those in charge of the freight do not have materials or tools to transport things more safely.
As they do not have training or the necessary tools to load and unload boxes and furniture, there are often many accidents.
These people also do not use protective clothing, so accidents such as cuts to the hands, muscle tears, bruises, etc., can occur.
If something is lost or damaged, those responsible for the transport do not assume any cost.
Now, as for the specialised moving service, the story is totally different, for several reasons; To begin with, it is a formalised service, so that workers have suitable working conditions (all social benefits and care in cases of work-related accidents) and all the equipment to carry out their tasks promptly.
So, Why Hire a Moving Company?
Hiring a professional moving company to help you with your move can be a rewarding experience, as you will have no hassle or stress during the process. If you are hiring a specialised company, you will know these reasons that will make you decide.
#1. 100% Reliability
A professional moving company will be the most reliable option, even more so than the help of friends and family. Professionals in the sector undergo rigorous training to learn the best movement techniques to keep your belongings safe.
#2. Stress-Free
Planning a move can be both overwhelming and stressful. Professional companies know the best way to move your belongings to keep them safe and secure. Knowing that your belongings are in good hands will help ease your mind on moving day.
#3. Responsibility
A moving company will be fully in charge of your move and will ensure that all of your belongings arrive at your door safely. Moving without the help of experienced staff gives you the responsibility to make sure all your belongings arrive safely, leading to increased stress during your move.
#4. Speed
Moving specialists will give you a date and time for all the belongings to arrive at the new home. Many companies pride themselves on professional and prompt and can streamline and simplify the moving process. Not to mention, they can get your couch through that narrow stairway a lot faster than you can!
#5. Efficiency
Trusting professionals is betting on quality and efficiency. Although it seems that anyone can make a move, the truth is that nobody does it better and, in less time, than a specialised company. Professionals provide a comprehensive service, taking care of the collection of merchandise, the safe transfer and its final placement in the new one.
#6. No Heavy Lifting
Without proper training, heavy lifting can cause back strain and other health-related problems. You can avoid heavy lifting during your move by hiring a professional moving company to help you with the process.
#7. Professional Inventory Process
Taking inventory of all the items in your home can be a daunting task, but a professional moving company can take care of that for you. This will help ensure that all of your belongings arrive safely at their new destination without having to spend hours tracking each box or item in your home.
#8. Security
They protect the merchandise from being transported with specially designed packaging to minimise damage, breakage and damage.
#9. Guarantee
They ensure the objects you transfer against possible deterioration during the transfer so that, if the merchandise suffers any damage, they offer you financial compensation.
#10. High-Quality and Skilled Service
Professional companies spend a considerable amount of time making sure all of their employees are highly trained, not just for the jobs they do, but to provide excellent customer service. In addition to personalised support from a moving consultant and coordinator throughout the moving process.
After reading this article, don't you think it is more worth hiring a moving service than doing it yourself?