Moving can be especially difficult on one of your most important, but often overlooked, family members: your pet. I often hear from people that their pets begin acting up weeks before the actual move. The resulting behavior can cause destruction in the home you are selling as well as concern for the pet's reaction in their new location. If Fido or Kitty is a senior pet, a new home can be particularly traumatic. How do you relieve your pet's anxiety? Preparation is the key.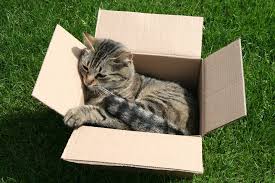 Before the Move
Visit the Veterinarian for a complete examination. Verify and document that all vaccinations are up-to-date. Inquire about medications for stress and the options of administering before or during the move depending on your pet's particular needs. Keep copies of your pet's medical records, including a current photo, in an accessible place.
Check homeowners association and local authorities for pet restrictions before purchasing your home. Many cities and neighborhoods have restrictions on the type, size and number of pets you are allowed to keep in a home. Requesting this information prior to making an offer can save the heartache of your beloved pet being restricted from your new home.
Keep to a regular routine. If your move will require the use of a carrier, find one of good quality that is sturdy, comfortable and insulated. It needs to be large enough to accommodate your pet and allow movement. Have it out in your house and use it routinely, so that your pet is familiar with his temporary home and comfortable in it.
Moving long distance and traveling by car? Many hotels are pet friendly but some are not. Plan in advance your route and check with area hotels for the ones that will allow your pet to stay with you. Your pet will appreciate the chance to get out of the carrier in the evenings and spend time with you.
Moving Internationally? Pets could require 6-12 months of surveillance or quarantine before being allowed into a different country. Check restrictions and make preparations well in advance of the move so there are no surprises for your family.
Day of the Move
Make sure your pet is safe. Keep in a safe room/kennel or at a trusted neighbor's or pet sitter's home while your belongings are being loaded into the truck. Make sure it is a place your pet is familiar with as to not create additional stress. If you do leave your pet in a room in your home, remember to check in frequently. Leave a litter box for cats and let dogs out on a leash for breaks to avoid accidents.
Identify your pet. Make certain that your pet's collar or tags have current information with a cell phone number and/or the new home information so you can be contacted in the event of an escape.
Time to load the Pet Carrier. Put in your pet's favorite blanket, toy or bed along with food and water for the trip. Remember a container of additional food and water in case of spills. It is a good idea to pack paper towels and wet wipes to clean up any messes from sickness or accidents during the ride. Don't leave your pet unattended for more than a few minutes at a time in his transportation kennel.
At Your New Home Sweet Home
Expect some behavior changes as your dog or cat becomes accustomed to his new surroundings. Use as many familiar items from your pets past to make him feel at home. This is not the time to try out a new food or bring in the new pet bed. Bring in his old toys, dishes and blankets to make your old friend comfortable. With lots of love and attention, Fido and Kitty will be back to normal in no time.