While preparing for a move already brings its own set of challenges, moving becomes even more daunting when we think about packing our fragile belongings. We all have this favorite china porcelain that we don't want to break!
We are glad to let you know that you can take the weight off your shoulder! Packing breakables is no rocket science. Follow the hacks below to avoid seeing your fragile items ending into shards.
1. Get Prepared
Packing fragile items can take time and should not be rushed. Before starting this process, make sure to organize your breakables to get an overall idea of how many you have. This will also help when you buy the tools: quality moving boxes, packing peanuts, bubble wrap, cardboard, scissors, tapes, etc.
2. Invest In Various Box Sizes
Many people think that it is better to have boxes that have the same size. But this is a common mistake. If you want to pack your fragile items properly, purchase boxes with various sizes.
Remember that delicate items should go in the bigger boxes while heavier objects need to be packed in smaller boxes. This packing method will prevent your boxes from breaking, but your packages will also be easier for movers to carry.
3. Don't Overpack
Overpacking will not do the trick, especially as far as fragile items are concerned. Carton boxes will not last indefinitely as they become flimsy with time. Therefore, if you overpack them, they might not support the weight, hence falling apart during your moving day.
We advise you to invest in quality and strong cardboard boxes to pack your breakables. In that regard, you will be sure that the packages will resist the shocks during your move.
4. No Empty Spaces Allowed
If we recommend that you do not overpack, on the other hand, you should not leave empty spaces in your boxes. This will prevent your objects from moving around and bumping into each other, increasing the possibility of breaking.
It is imperative that you make sure that items like cups, mugs and glasses are completely wrapped. You don't have to separate them using cellular inserts but instead add extra layers of packing paper or bubble wrap if needed.
You can stuff hollow objects, including vases and goblets, with packing paper or crumpled old newspapers. These breakables also have to be wrap individually before packing them into the boxes.
A useful hack to follow is to pack your flat breakables vertically. You can go for either bubble wrap or packing paper to wrap your plates and picture frames and secured them with packing tapes. In order to further reduce the possibility of breakage, place extra packing paper under, above and between all your belongings.
5. Extra Cushions For Irreplaceable Items
Pack your irreplaceable fragile belongings with extra care and cushions! You can even get one whole box for delicate items with irregular shapes. Start by placing a blanket beneath the wrapped object and add a pillow on top before closing the box.
6. Labels Must Be Everywhere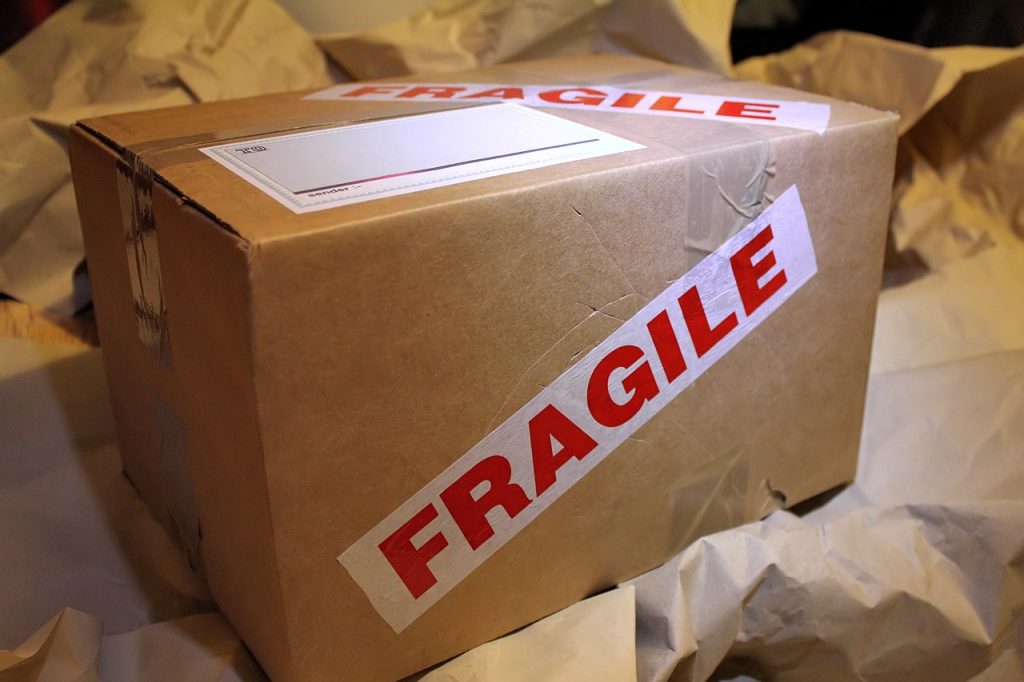 It goes without saying that you need to label the box of your breakables. However, don't put it on one side of each box only but everywhere! You need to ensure that you write "FRAGILE" on the top, bottom, and sides of these boxes.
7. Think About Unpacking Too
While you are packing your breakables, remember to keep your similar objects together. As your boxes will be labeled, it will be easy to regroup them, and you will know that you will need to unpack with extra care. After unpacking all your basic needs items, your breakables are the next belongings that you should unpack to decrease the possibility of breakage.
Did you move recently and do you have additional tips to share on packing breakables? Leave them in the comments section below.