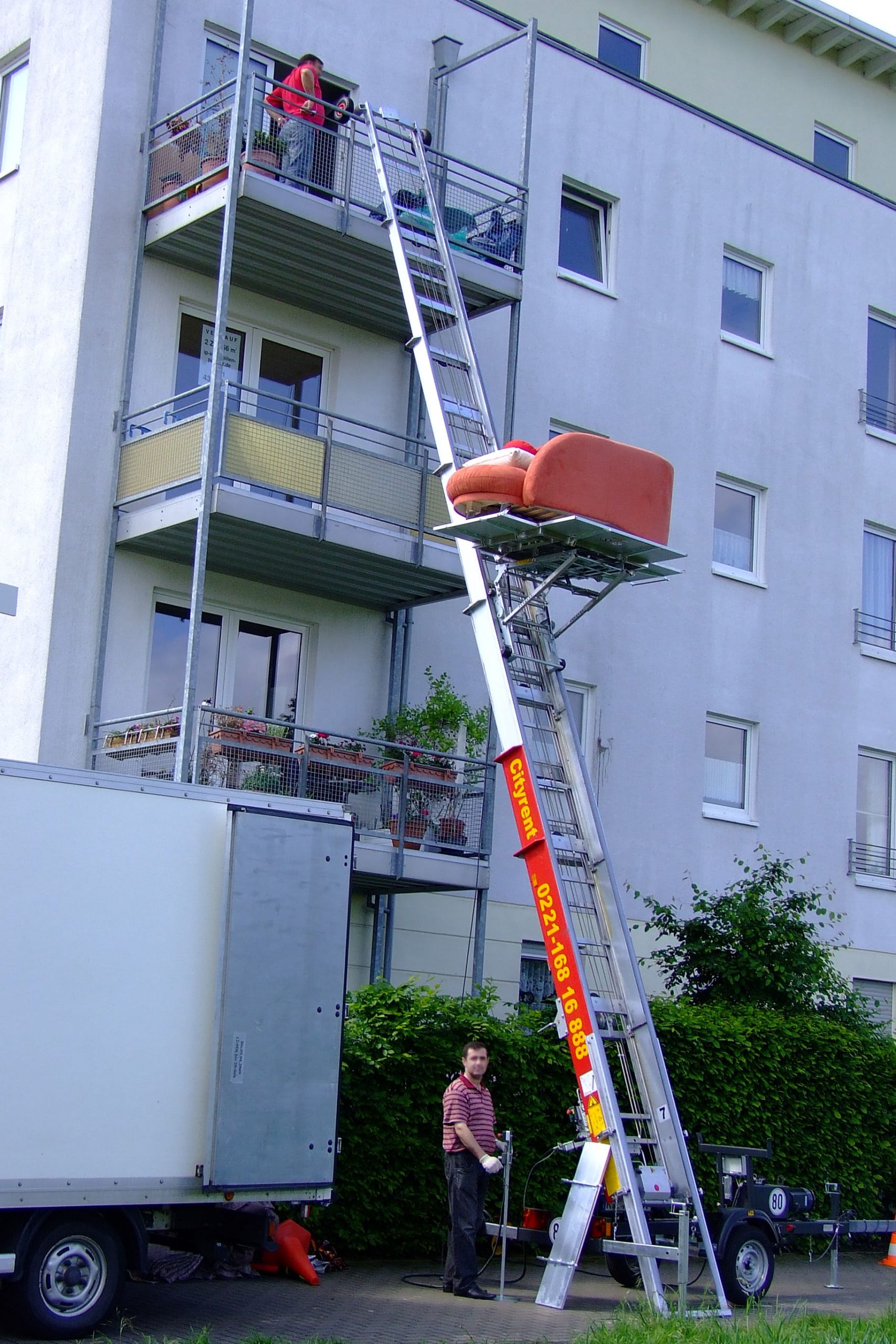 Summary
– 1. Furniture lift: its principle
– 2. Furniture lift models
– 3. Rules of use of the furniture lift
– 4. Furniture lift: new or used?
– 5. Furniture lift rental
During a move or move-in, it may be necessary to use a furniture lift to move any heavy or bulky objects. What are the particularities of a furniture lift, should it be bought new or used, or why not rent it?
This post brings answers to your questions.
1.

Furniture lift: its principle
The furniture lift is a mechanical device designed to lift and lower heavy loads or light but cumbersome objects. It is therefore used for a variety of reasons, namely:
– when the configuration of the staircase does not allow the transport of bulky items;
– to facilitate the work of the movers;
– to reduce handling time;
To limit work accidents due to falls and various handling tasks that often take place on the staircase.
Good to know: Most syndics of co-ownership prohibit access to the elevator for any move or move-in. The furniture elevator is particularly indispensable in this case.
2. Models of furniture elevators
Several models of furniture lifts are offered, namely:
– The retractable electric ladder: this space-saving equipment is ideal when used in a small space. It is also convenient for access to certain areas inaccessible to most motorized vehicles. This type of furniture lift can support a maximum load of 200 kg. The height of the deployed electric ladder rarely reaches 20 m.
– Furniture lifts on trailers: they are powered by an electric or petrol engine. Its payload is about 400 kg, and the height of the ladder is usually between 30 and 37 m, which is equivalent to an 11-storey building.
– Furniture lift vehicle: it is supported by a car specially designed to accommodate a furniture lift. The maximum load of this type of vehicle is about 400 kg, and its height (ladder deployed) can reach 55 m, or the equivalent of an 18-story tower: enough to make a grand piano take a short trip, which can usually only be moved by this type of furniture lift.
Good to know: to choose the right furniture lift, you have to consider the height of the dwelling (number of floors) and therefore the height of the ladder. Besides, consider the payload, parking, and accessibility possibilities at the location as they must allow this type of vehicle to be used there.
3. Rules for using the furniture lift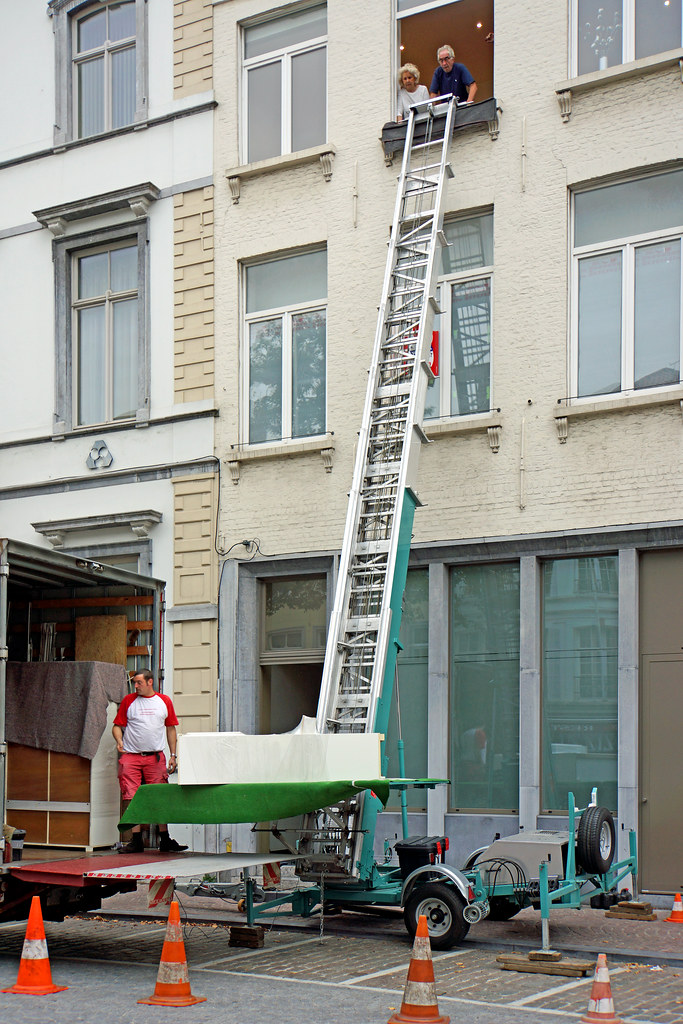 The use of this type of elevator requires certain precautions to be taken:
– survey the premises;
– Avoid parking the furniture elevator under a power line, telephone line, or near trees and lights;
– Properly moor the machine;
– Stabilize the furniture elevator with the built-in stabilizer;
– Secure the work area if it is located on a public roadway by installing signs and markers.
Attention: the installation of a furniture lift requires a permit you can obtain from the local authorities, the town hall's technical services, or the police and gendarmerie services of the place where the lift is parked. On the other hand, to use a furniture lift, it is essential to employ qualified personnel.
4. Furniture lift: new or used?
It all depends on whether you are a removal company in daily demand by its customers or a private individual who wishes to use this machine for personal use. In the first case, the furniture lift is likely to be used every day; in the second case, it will be used at most three or four times in a lifetime.
You can buy the furniture lift new or used. It is possible to buy a new furniture lift through a company specializing in lifting equipment. Prices can only be obtained by quotation. Contact is therefore necessary.
Second-hand furniture lifts are also sold. Their price depends on several criteria, for example:
– the type of machine;
– the year of commissioning;
– the height of the ladder deployed.
As a rough guide, you can find them on online advertising sites:
– a used furniture lift from 1995 with a 20 m ladder for $6,000;
– a 2012 furniture trailer lift with 29 m ladder for $30,000;
– a 2004 vehicle furniture lift with a 30 m ladder for $30,000.
Tip: it is in the interest of the private individual to choose a more economical solution than buying a new or second-hand furniture lift, especially since after its use it will have to be parked, insured, maintained…
5. Furniture lift rental
You can, of course, rent a lift from a lifting equipment rental company for occasional use. Here are some indicative prices (before covid-19):
– electric furniture lift: from $80 to $100 per day;
– Furniture trailer lift: from $200 to $250 per day, and from $800 to $1,000 per week.
Good to know: in most cases, it is necessary to estimate a furniture lift rental. Be aware that the rate is higher when it includes the assistance of a qualified technician. You can therefore spend less by opting for the pure rental of the machine. But in this case, it is more than recommended that you have a thorough knowledge of its handling, operation, and safety regulations.