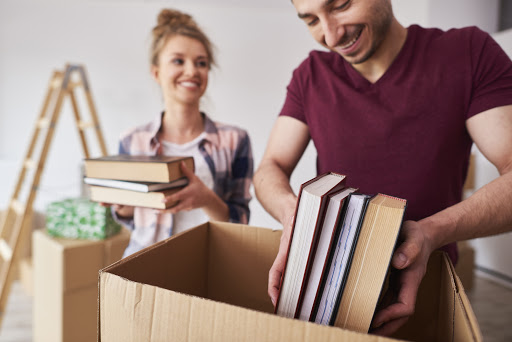 Tip #1 Thou shalt forget procrastination
You probably know this by now, but a move is not something you can organize at the last minute. You're moving a whole life! A minimum of preparation is required, and procrastination is not an option!
    1. Before anything else, take the time to create a complete list of all the steps to be taken. This will allow you to have an overview of your moving project.
    2. You are now ready to start prioritizing tasks. Which steps will take the longest?
Feel free to use our comprehensive checklist of all the steps involved in moving. You can even print it out, which will make things even more convenient.
Tip #2 Thou shalt sort your belongings
A move is a perfect opportunity to sort through your belongings and only keep what is essential. And believe us, it's always good to start a new beginning this way! Our moving tips for you:
    – Bulky goods: if you have old furniture that you don't want anymore, for example, you can already get rid of it. Contact charitable associations to give a new home to your old furniture.
    – Papers: paperwork can easily turn into a nightmare, and if this is your case, we strongly advise you to take the opportunity to sort it out. Keep only the essential papers in a document holder.
Did you know that? If you decide to move with a professional moving company, getting rid of clutter will save you money on your move. Less stuff to move = lower price 😉
Tip #3 With the least helpful stuff, thou shalt begin.
Our third moving tip is pretty easy; starting with the stuff you use the least makes the most sense.
For example, your ski stuff can already be stored and packed – unless you are lucky enough to be used to the mountains near a ski resort. Putting your least used stuff away first allows you to keep what is essential in the end.
Tip #4 You will compare several quotes
Finding a reliable mover who understands your needs and offers a reasonable price is almost impossible. How to choose among these companies? Here is the solution: fill out 1 form and receive 5 moving quotes to compare to find the perfect one.
Tip #5 Use garbage bags
The idea of having to fold all your clothes irritates you in advance. You don't have to fold everything!
You can transport your beautiful shirts and any other piece with a hanger in garbage bags. This moving trick saves you time and money. But beware, not all moving professionals will accept that!
Tip #6 Protect your dishes
Forget about wrapping paper and bubble wrap and replace them with your bath or beach towels to wrap your dishes. This moving tip will cushion any possible shocks during the move. And not only do you save money, but you also please the planet.
Bonus: for the glasses, use your socks by putting a glass for a pair of socks. Double socks for maximum protection!
Tip #7 Thou shalt forget the boxes for the books
If you were thinking of using moving boxes for your library of books, it's best to forget the idea. The boxes will get heavy quickly, which is not practical on moving day.
We all have 2-3 rolling suitcases in a closet somewhere, so why not take advantage of that? Putting all your books in them makes transporting them all easier and saves you back pain.
Hope this post will be helpful to you. It will now continue in part 2. Stay posted!
Read more: