Having your own place is bliss but moving into it is a Herculean task, so we tend to ignore the reality of moving in an apartment or home. Moving into a studio apartment is difficult but not impossible. So if you are moving in a studio apartment, you may be interested to know how to maximize your new space. As stressful and tiring as it can be, here are some easy tips to make the process easier and greatly appreciated.
It is known that a studio flat is apt for someone who loves and can adjust with a minimalist lifestyle. So if you used to stay in a bigger apartment, then consider leaving out some belongings in the storage spaces or sell them. Think of the furniture you actually need. Replace heavy and space-taking furniture with extendable furniture such as a sofa bed and a trunk coffee table. Diminish the amount of stuff that you plan to bring to your new place.
Focus on the space that you are going to use when moving there. Before you set the furniture in, measure the whole place. If you don't know how to measure the space, then have a professional look into it. Sketch out a plan of your apartment, where you will put your living area, sleeping area, dining area, and work area. See how much space each furniture is going to take up but always remember to leave a comfortable amount of floor space free so you can walk around the room without any problem.
Organize your move prior to two days before. On the first day, plan to move furniture and your most important living supplies and leave the rest of the boxes for the other day. In the first day, organize the space and install extra storage units in areas, bathroom or kitchen if need be. In this way, when you bring your other boxes the next day, there will be space for everything. Well, you won't have to trip over miscellaneous clutter when you are moving around the apartment.
Find good and affordable movers to help you relocate. Research your options, ask for recommendations and fill out a moving quote to get in touch with several companies or visit their websites to get more details.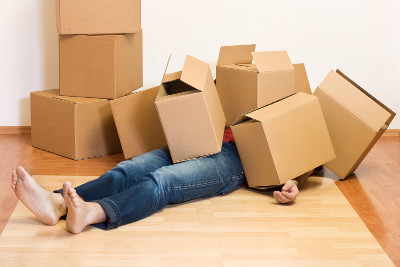 Make a moving inventory of the items you are going to take to your new home so that you can better organize them. It is important to keep track of your possessions during the entire relocation process and has proof of their pre-move condition in case they get damaged.
In your apartment, do create more visual space and place large mirrors at strategic places throughout the room. Focus on maximizing your spaces when you are moving in.
Living in a studio apartment has many benefits and about that, we will talk in the next blog.