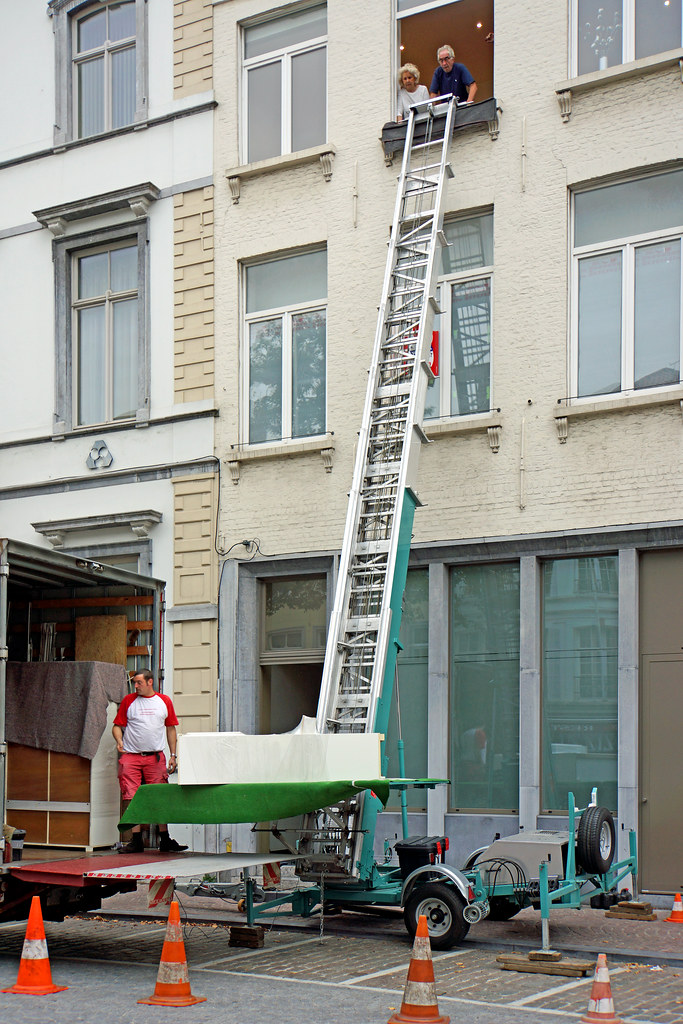 When you want to move a piano or a fridge, when you live on the 7th floor without an elevator, or when the stairs are too narrow to reach it, there are not many solutions, except using a lift. How to rent a furniture lift to move and how to choose the most suitable one?
Why rent a moving elevator?
Renting an elevator has many advantages, unlike moving large and bulky objects without the help of a specialized machine.
1- Rent a furniture lift for safety
First of all, by renting a furniture lift, you will no longer run the risk of injuring yourself or a third party and damaging your furniture at the same time. Then, you do not risk damaging the common parts like the stairwell or the interior of your home. Thus, you avoid complaints from the neighbors or a warning from the syndic.
2- Rent a furniture lift to save time
Moreover, renting a furniture lift for your move will save you a lot of time. Indeed, the furniture lift with a basket allows you to make several passages alone. If you only have one piece of furniture or a heavy object to move, a single path through the window or the balcony will be enough. However, if you will have to go downstairs continuously during the move, you will be wasting a lot more time and energy. Moreover, thanks to the use of a furniture lift, you will not have to dismantle your furniture.
3- Reduce the cost of your move by renting a furniture lift
Indeed, renting a furniture lift will lower your moving bill since this operation requires less labor, therefore, more savings. Moreover, since you exclude the risk of damaging your furniture and your building or your home, you will not have to pay for the damage.
What are the steps to rent a furniture lift?
Renting a furniture lift requires several essential steps beforehand and good organization.
Make an appointment with the rental company.
First of all, fix a rendezvous with the elevator-renting company that will rent the lift. It is best to calculate the volume to be moved or at least the number of bulky objects. In addition, it is necessary to check that the things to be transported do not exceed the maximum load of an elevator. With the company's online volume calculator, you will inform them of the volume to be moved so that there is no overcharging on D-day. On the other hand, you will be able to estimate whether you need a half-day or full-day rental. However, you can ask for an on-site visit by a professional to estimate the amount of this operation.
Request a parking permit
Secondly, you need to ask for authorization from the city hall or the police station to obtain a parking notice for the D-day. It is recommended you do this two months in advance, because parking spaces are expensive, especially in the city!
    – First solution: You will receive a notice that you can post in several copies in the vicinity so that spaces will be available at the right time.
    – Second solution: The city hall will install signs.
However, there is a fee for the authorization, so consider including this amount in your moving budget.
Good to know: some furniture lift rental companies offer to take care of the parking permit themselves.
Furthermore, it is wise to inform your neighbors of your project if you live in a building. Finally, mobilize some extra hands to help you if you undertake to move without the help of professionals.
Prepare the room to be moved for the furniture lift.
First and foremost, you must prepare the room to be moved with the furniture lift to avoid wasting time. Do not put any flammable object in your boxes intended to be transported by the machine. Finally, we recommend that you leave your balconies and windows empty to facilitate the operations of the lift.
How to choose a furniture lift for your move?
When you are a novice in the field of furniture lifts, it is not easy to know which device will be the most suitable for your move.
Here are the different types of furniture lifts
There are generally 3 categories of lifts:
1- The electric ladder lift or interlocking ladder
This elevator is used to bring objects through the exterior, balcony, windows, or terraces. In addition, the ladder is very effective in otherwise inaccessible places. It is suitable for hard-to-reach streets and can be installed on-site under balconies or windows. You can use the electric ladder from the 3rd floor to the 7th floor, but it isn't easy to handle.
2- The towed furniture lift
This furniture lift truck tows heavier objects and has a range of 400 kg. It is practical in challenging-to-access streets like a porch, a dead-end, or a narrow street. The truck can be used from the 6th floor upwards and can lift up to 16 m high. It is mounted on a trailer and is easy to install, use and handle.
3- The self-mounted furniture lift
The self-mounted truck lift can go up to 18 m high. Unlike the other two models, this one is hydraulic. It is the most voluminous of the furniture lifts and also the most difficult to position. This lift is effective from the 7th floor and is installed under the window. It is already mounted on a light vehicle and can load up to 500 kg. This type of lift is used for company moves.
The services of the rental companies
First of all, to use a furniture lift, you need to have a license. Indeed, the handling of such a machine is delicate and requires experience which you'll benefit from the rental company.
In addition, it is essential to know that most furniture lift rentals require the presence of a driver technician who will advise you and accompany you throughout the operation. Moreover, the technician takes care of the security around the machine and secures the perimeter.
It is up to you to decide if you want to bring in additional professionals to help you. If you choose to rent the furniture lift without the help of qualified personnel, be aware that insurance is not provided.
When should I rent a furniture lift to move?
As the weather is unpredictable, it is better to avoid renting a furniture elevator in periods of snow, ice, or violent wind. Indeed, the intervention is likely to be canceled because of a too unfavorable and dangerous climate.
Hope this post has given you an idea of how to rent a furniture lift for your move? Remember to share your experience in the comment section below.