There comes a time in our lives where we need to move out of a place to find better options and peace of mind. It is similar when it comes to the senior citizens, especially if one of the partners is no longer alive then the need to move out is priority. Well, before moving out, the need to sort out the junks is essential as you would not want them to leave behind something that they might cherish. So, to help you out in knowing the important things, here are some tips and steps that you certainly need to consider when it comes to senior downsizing.
It is true that downsizing can be quite stressful for an elderly person as they have got a lot of stuffs to either throw, keep, or donate. It is like they are dividing their lives into several parts before keeping one part that will be with them until the very end. As someone who has helped an elderly person move out of their home into a care home.
If you are moving your parents from their home to a new place, such as an assisted living facility, it is a task that can be particularly labor intensive and emotionally challenging at the same time. Therefore, it is something that must be done as gently as possible. Moving can be extremely stressful for anyone of any age.
Moving is a transition, no matter how you look at it. Nevertheless, this does not mean, it has to be challenging and emotionally ridden during most of the process. If anything, the transition can be made more manageable, as well as, more comfortable if the right steps are applied from the onset.
So, how is it possible to organize your parents move so that it is smooth and stress-free from start to finish? Hopefully, by the end of this article, you will have a better idea of how to accomplish this task.
Here are 6 steps to organize your parents move:
Curbing Emotional Flare-Ups – Moving is never easy for anyone, and usually more difficult for the elderly. Therefore, the best way to prevent emotional flare-ups is never trying to make all the decisions concerning your parent's belongings. This is because you do not want any run-ins with them or other relatives for doing so. It would be best to encourage them to participate in all decisions concerning the move.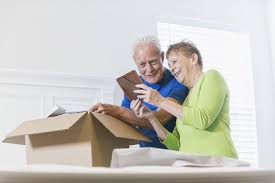 They should be able to pick whatever furniture, and anything else that is going with them to their new home as long as there is enough space. Family members need to step back and let their parents decide on what they want to take with them and whatever else should be left behind. Sentimental value is something that far outweighs logic. Remember, you are trying to take the stress out of moving. If you can pack a few extra boxes to make your parents feel better, it is worth it.
Pack Slowly – Your parent's home was more than just a roof over their head. It was their comfort zone for most of their lives. Therefore, treat it as such, and when the time comes time to move, pack everything slowly. What seems like junk to you could have some sentimental value to them. Your parents will require extra time to sort through things on their own personal terms. Trying to speed up the process will only upset them.
Show Extra Kindness – You need to be extra kind, patient, and understanding as possible. If you are positive in your approach about the move, your parents will likely be in good spirits, too. A move is stressful and upsetting in its own way. However, if the people involved in the moving process remain positive, the outcome should be positive, too. Do not just lend them your physical support, but your emotional help, as well.
More is Better – If you run into a situation where you know your parents are taking too many items, but insist they cannot part with some of them, then just pack them. It might be easier to get rid of non-essential items over the following weeks or months. Of course, if the move is to a facility with extremely limited space, you will have to remain firm and insist that everything cannot go to their new location. In this case, offer to store some of the items at your home, or the home of other family members.
Orientate Your Parents to Their New Home – Get your parents engaged with their new residence. This can be done by taking them for a few visits to the new home before they move into it. This will assist them in becoming accustomed to the new place and to accept the fact that they are moving.
Sometimes, the best way to deal with an impending move is by going to the new residence. By doing this, they will not feel like strangers once the move is completed.
Use a Professional Moving Company – One tip that will save a huge number of headaches is to use a professional moving company. You only need to box and label everything, and they will do the heavy lifting. Use a reputable company, and make sure you are insured in case anything is broken or damaged.
Families in Need/Caring Transitions of South Florida works together with each client to sort through what is truly important and helpful for those who are looking to move to smaller, more convenient homes as the next stage of their lives. Some of the areas they aid with include paper and document management, decluttering and donating or liquidizing items that you will not take with you to your new home.