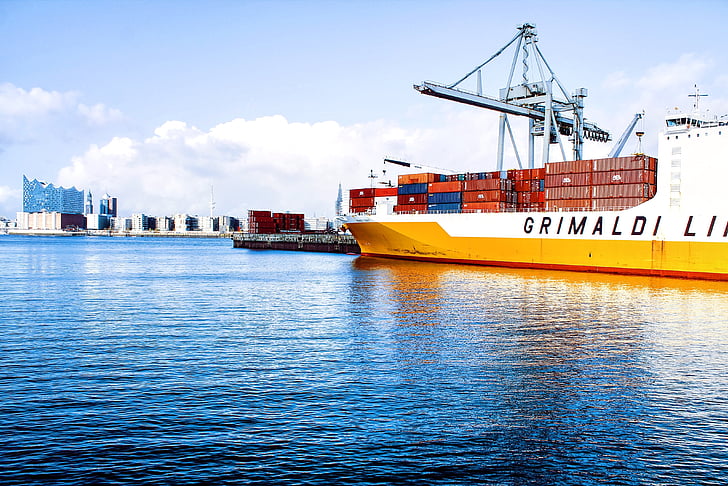 Summary
    – Usefulness of the moving container
    – What type of moving container to choose from?
    – The moving container in groupage
    – Moving container: documents to be provided
    – Moving container: rates
Move safely with sea containers
Depending on the type of move you choose, you will need moving equipment such as moving boxes, a moving truck or moving containers, or even a moving elevator.
The usefulness of the moving container
The moving container, or sea container, is used and adapted for international moving and overseas moving.
For this purpose, the moving container is closed and ventilated. It has a roof and rigid walls. It has a door at one end for optimum safety, which is sealed when placed on the ship. It complies with world standards.
It is designed to transport vehicles and goods or objects of all kinds.
What type of moving container should I choose?
There are two types of shipping containers, the 20-foot shipping container, and the 40-foot shipping container.
These are adapted and approved to accommodate furniture, personal belongings, and a vehicle.
The 20-foot maritime container
    – its total capacity is between 25 and 30 m³ ;
    – the maximum weight is 21.6 tons.
The 40-foot sea container
    – its capacity is between 50 and 65 m³ ;
    – the maximum weight is 26.6 tons.
The moving container in groupage
You can choose between customized containers or sea containers in groupage.
As with groupage moving, this option is more economical because it allows you to group several shipments belonging to different customers in the same container. The objective of this system is to pay only the pro rata of the volume to be shipped.
Moving container: the documents to be provided
For customized shipping containers, various documents are required, namely :
For the shipment of your personal belongings :
    – a dated, signed, and valued inventory;
    – a proof of transfer (notice of transfer/employment contract…) ;
    – an identity document;
    – for the vehicle: original vehicle registration document and certificate of non-pledge;
    – your last tax notice (you will be asked for it when you go through customs).
The formalities to be completed to recover your container :
    – Pay the unloading fees to the shipping company's agent.
    – Clear the container through customs.
Moving container: the tariffs
It is difficult to give an order of price because the price depends on the shipping formula chosen: "grouped shipment" or "personalized," which is exclusively reserved for your personal belongings but also :
    – of the service provided;
    – the destination (length of the trip);
to which you add :
    – compulsory or not marine insurance (declared value…) ;
    – the cost of administrative procedures;
    – the cost of disembarkation at the port.
You can read further below: